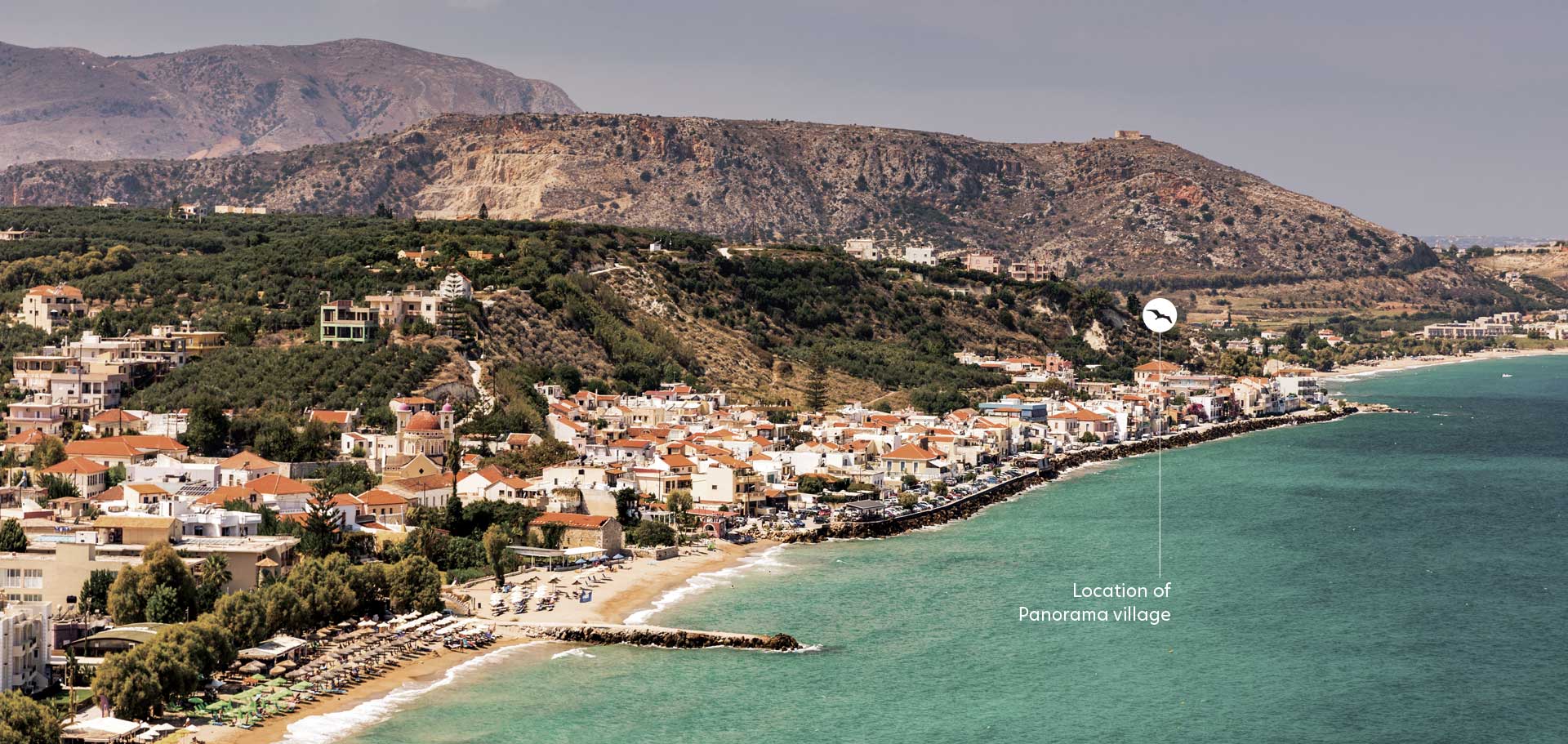 Panorama Village location
Panorama Village is situated in the pretty seaside Kalyves village, in Chania's Apokoronas province. The village location, as well as the entire island, are just as beautiful in winter and summer, as Crete's charm remains unchanged throughout the year.
The backdrop of the White Mountains, Xidas river that runs through Kalyves and the green countryside transform this traditional village into a privileged place. It is easily accessible from Chania's city, airport and main port (Souda).
The location of Panorama Village
The seaside plot in Kalyves offers unobstructed sea views and proximity to the centre. It is within walking distance from Kalyves' facilities, combining comfort with privacy.
Kalyves village is located just 25 minutes away by car from Chania. It boasts beautiful and quiet surroundings, while providing easy access to all the comforts and infrastructure of a large city like Chania (hospitals, cinemas, shops etc.).
Rethymno and Georgioupoli are also a short distance away, offering several options for nearby excursions.
Interesting historical facts about Kalyves
Located at the entrance of Souda Bay, Kalyves is known for its famous Kasteli hill, where the ancient city of Ippokoronio was built, featuring Byzantine style ruins, monuments and monasteries. Kalyves, a place of touristic and historic interest, is a  preferred destination for both Greek and non-Greek visitors.
The village was named after the makeshift huts that Arab pirates built during their invasion in 828 AD. According to another version, the name comes from the huts that farmers used to build close to their fields.
In antiquity we come across Kalyves in the texts of historian Strabo, who refers to the village as Amphimatrion.
Kissamos, one of the two ports of the ancient city of Aptera, was located nearby. The archaeological site of Aptera, containing the city's well-preserved ruins, is a stone's throw northwest of Kalyves.