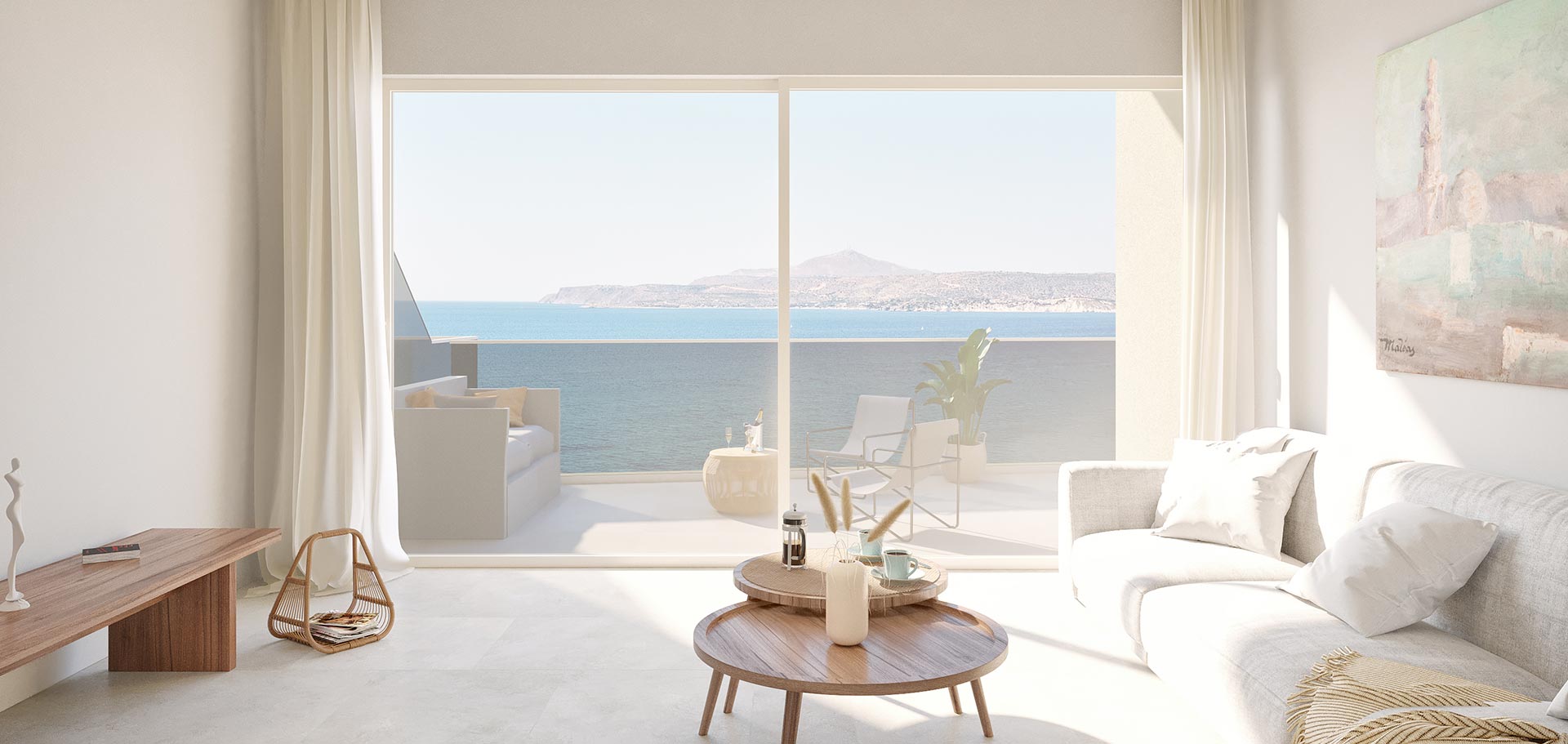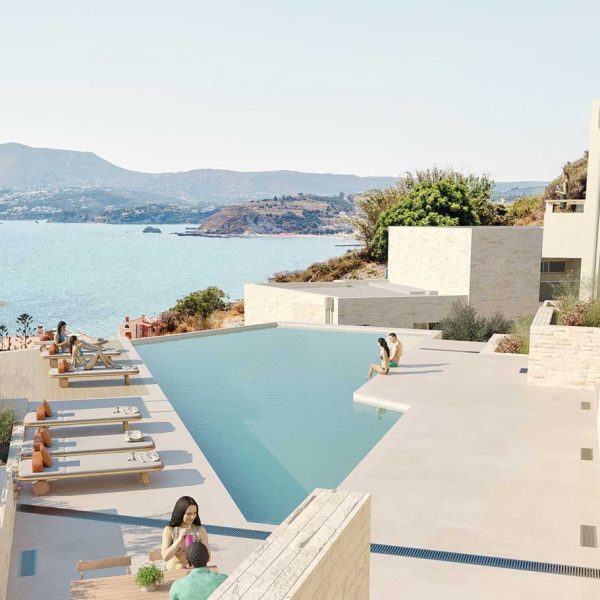 Our philosophy
AVAX Development has developed a modern, state-of-the-art complex, the Panorama Village, built on a hillside plot with a captivating sea view.
The combination of sea and mountain in this quiet yet central spot, namely the village of Kalyves in Apokoronas, reflects the company's vision to be a pioneer in developing unique and sophisticated projects.
Exterior
The communal areas of Panorama Village have been carefully designed to complement the 19 apartments of the development.
Local and natural materials like wood, stone and roman plaster were used to blend in with the natural surroundings.
The communal areas offer unique views of the Cretan landscape, the numerous mountains, Souda Bay and the Aegean Sea. The infinity pool, the featured staircase curtains and the distinctive lighting add to this relaxing environment, resulting in a very special atmosphere.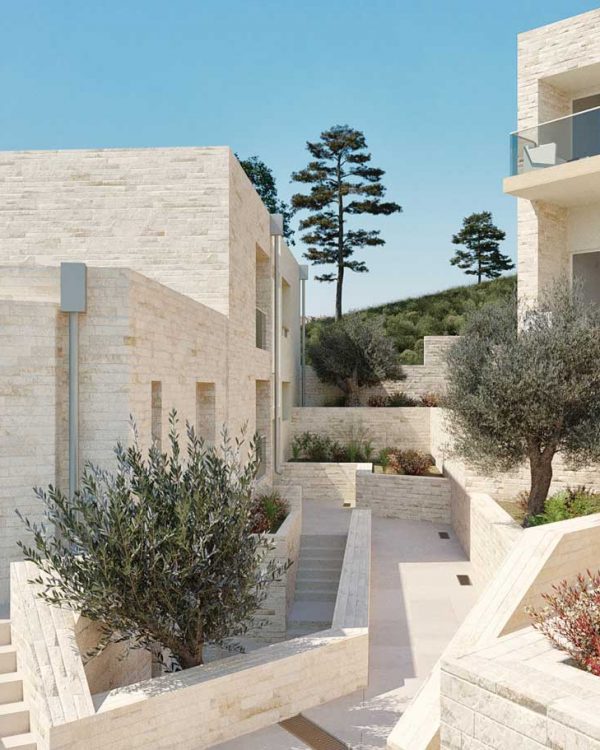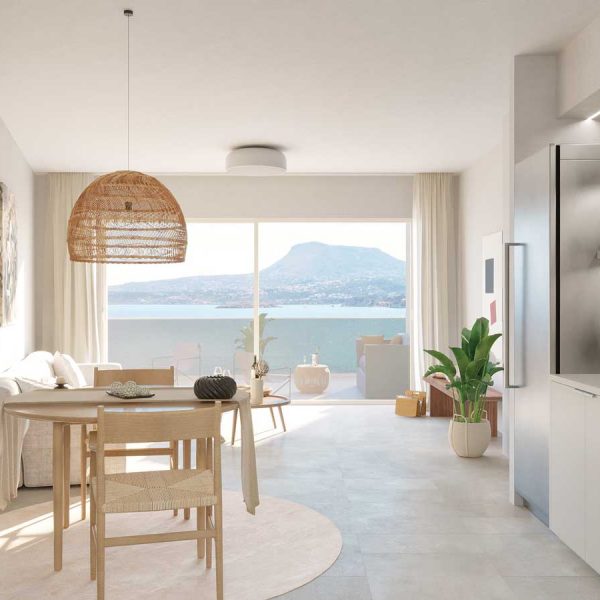 Interior
The apartments of Panorama Village have been designed for all year round accommodation.
This is made possible thanks to the VRF heating and cooling system, as well as the excellent insulation (walls, ceiling, aluminum frames), provided by the quality materials that have been carefully selected for all the apartments of Panorama Village.
Technical Specifications
General Specifications
External windows & doors – double-glazed aluminum frames, with thermal break insulation
Window mosquito nets
"Smart Home" features – e.g., remote control of heating & cooling system, boiler, lighting

 

Eco-friendly paints
Security aluminum entrance door

 

Off-white, wood-like internal doors

 

Fitted off-white, lacquered wardrobes in bedrooms
Vratsa stone uniform flooring with sandblast and antique finish in a specially designed pattern used in living rooms, kitchens, balconies, loggias, staircases and exterior area
Semi-solid wooden flooring used in bedrooms and hallways
VRF system for heating and cooling; adjustable temperature in each and every room
Pre-wired internet, telephone and TV connection
Home alarm system
Outdoor, slick and slim ceiling fans in front covered balconies
Solar panels & thermal boiler for hot water supply
Outdoor hot-tub (jacuzzi) preinstallation in front balconies
After Sales Services
The experienced team of AVAX Development is there for you before, during, as well as after the purchase of the property.
Together with our partners:
We

 

take

 

care

 

of

 

the

 

operation and maintenance of communal areas and facilities.
We look after the security and maintenance of apartments and private gardens throughout the year.
We can make sure your bills are paid on time, upon request
Property Buying Procedure
Steps
Expression of interest
Offer submission and final agreement
Property due diligence by a partnering law firm or a professional of your choice
Legal authorization by mandate to settle the contract procedures in case you are not a Greek resident or upon request (issuing a Tax Identification Number, opening a bank account etc.)
Processing of the purchase procedure
Completion of the purchase and contract signing
Payment Stages
(% of contract value)
20% within 14 days of the reservation
30% upon completion of bearing structure
25% upon completion of plastering
15% upon installation of aluminum frames
10% on property delivery
Contract fees
(estimate, % of contract value)
Legal 1%
Notary 1%
Mandate 100-200 Euro
Transfer tax 3%
Land Registry~0,8%
Golden Visa
In July 2015, the Greek government updated its migration policy concerning residence permits.
According to the new regulations, upon purchase of a property with a value of at least 250.000 Euro, investors and their families fulfill the necessary requirements to obtain a 5-year residence permit with the option of continuous renewal, provided that the property remains in their ownership. They are also entitled to apply for Greek citizenship after 7 years, as long as they have lived in the country for an uninterrupted period of at least 5 years.
A Panorama Village apartment can secure the desired Golden Visa. Our lawyers can provide additional information regarding the Greek migration policy, upon request.